Flawless Fiberglass Repair and Frame Repair for Residents of
DeLand, Orange City, Deltona, DeBary
Express On-Site Commercial Services, Inc. is committed to customer satisfaction and A+ workmanship on all levels, no matter what. In fact, we know we offer the best quality welding services, fiberglass repair and frame repair in town--and our capabilities don't stop there. We've got a variety of services to meet all of your needs, and you can either come to us or we'll come to you!
Don't make the mistake of repairing your vehicle's frame or fiberglass interior with a novice technician, you'll certainly regret your decision. Trust the talented team at Express On-Site to get the job done right the first time.  
So Much Talent in One Trusted Company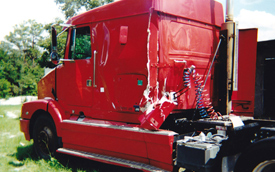 Fiberglass Repair Before
Fiberglass Repair After
With a variety of services, comes a variety of knowledge and skill. Along with an array of professional expertise we have an exceptional facility to meet your needs. We also have the high-end equipment to back up the wide range of skills our technicians are gifted with. At Express On-Site Commercial Services, Inc., we'll give you our best work–as well as our best attitude–anytime you count on us to get a project done.
The expert welding and repair technicians at Express On-Site Commercial Services, Inc. can handle any job big or small. If you're looking for a company that does expert frame repair or fiberglass repair, look no further. We do all that and so much more.
Why Choose Express On-Site Commercial Services, Inc?
There's a reason we've been in business for so long. For nearly two decades, our company has served residents of Volusia County and beyond with a variety of custom welding services, auto body repair work, paint jobs, container services, compactor, baler and loading dock services, fiberglass and frame repair, and more. We pride ourselves on the fact that we pretty much never say "no" or "I can't." If you've got a job that needs to get done, we'll do it!
Our quality technicians offer fiberglass repair and frame repair for any type of job. Our huge, widely-equipped facility is built to handle large projects, and we even specialize in fleet services for multiple vehicles. If you can't bring your truck, car, or container to us--remember, we'll come to you!
Call us today to schedule a mobile service or an appointment on site, 386-804-6481.